R4 +: Heavy duty floor scales for transport and logistics markets.
This new range of high accuracy, legal for trade scales has been designed for weighing operations in warehouses, where high capacity forklift trucks handle most of the traffic.
Sufficient robustness in the floor fitting elements and high mechanical resistance in the platform comfortably allow installation in traffic areas.
Ground fitted use, combined with access ramps, is also possible.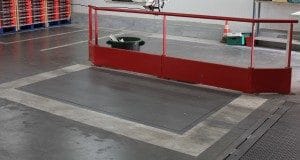 Associated with PRECIA MOLEN's indicators, the R4 PLUS platform turns into an equipment offering all communication possibilities with the client's information system.