Access control terminal CA 410
The CA-410 access control terminal enables opening a barrier or a doorway upon presentation of a contact-free badge. It integrates a graphic display, an RFID reader, digital Inputs/Outputs, an Ethernet link.
The Ethernet link in TCP/IP mode enables a master system to manage vehicle accesses to any site that is likely to have a controlled Input/Output service.
Besides, PRECIA MOLEN offers its PCS-LAN software, an access control PC software, coupled or not with the weighing.
The CA-410 access control terminal is the perfect tool for on-site access management for Cars (C), Lorries (L) or C/L.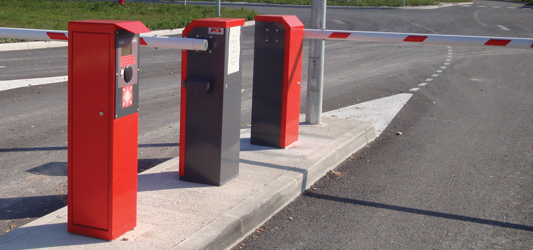 Functions
Display of customised messages (Show Badge, Authorised Badge, Refused Badge, Exceeded Quota, Saturated Site…).
Sending of events towards the hosting system (Use of numbered badges).
Activation of configured outputs by the hosting system, for example:
• Activation of a horn in case of a professional badge (corporate)
• Opening of a barrier.
The access control (TCP/IP address) is configured using a PC keyboard connected in the cabinet